Thunar File Manager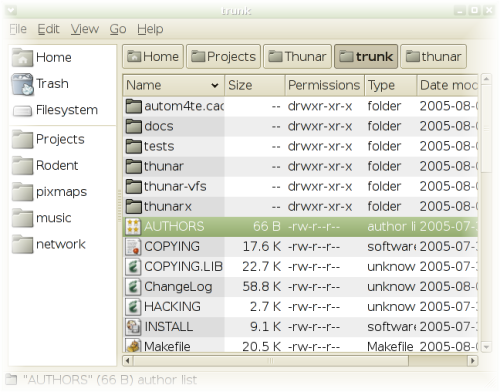 About
Thunar is a project I started in mid 2004 (initially named Filer, but renamed to Thunar, because of a name clash with Jens' Perl Filer), which aims at developing an easy to use, lightweight file manager for the UNIX/Linux desktop (specifically the Xfce Desktop Environment).
Visit the official Thunar Website and the Thunar Project Wiki for details.
Articles
Related Projects
Related Links
Latest News
New Article
09 Aug 06
A short summary of the new features in Thunar 0.4.0rc1 is available here.
Thunar BETA1
16 Apr 06
The first beta release of Thunar was released today, as part of Xfce 4.4BETA1.
Thunar in Xfce SVN
31 Jul 05
Thunar was finally imported into the Xfce Subversion repository today.